PUBLISHED ON EDITION NO. »
333L | 3/22/2010
Lawrence Celebrates Lá Fhéile Pádraig
***** **
PICTURES: Gallery 1 | Gallery 2 | Gallery 3 | VIDEO


EDITORIAL:
Traditions are important


***** **

Saint Patrick's Day (Irish: Lá Fhéile Pádraig) is a yearly holiday celebrated on March 17. It is named after Saint Patrick (circa AD 387–461), the most commonly recognized of the patron saints of Ireland. It began as a purely Catholic holiday and became an official feast day in the early 1600s. However, it has gradually become more of a secular celebration of Ireland's culture.

It is a public holiday on the island of Ireland, including Northern Ireland and the Republic of Ireland, as well as in Newfoundland and Labrador and in Montserrat. It is also widely celebrated by the Irish diaspora, especially in places such as Great Britain, Canada, the United States, Argentina, Australia, New Zealand, and Montserrat, among others," according to Wikipedia.

Leading the group of organizers of this year's Lawrence St. Patrick Parade is Marie Gosselin, who started twenty years ago 'helping' the organizers. "I wish the city were bigger," said Marie while commenting about the list of participants for this year's parade. "Definitely we are looking at a two hours plus parade", she said.

Irish Woman of the Year
This year's Division 8 Ladies Ancient Order of Hibernians Irish Woman of the Year is Rose Allen. Allen's grandparents hailed from County Tipperary. Born in 1923, she is the youngest of five children. Baptized in St. Patrick Church, she graduated from St. Patrick Grammar and High School before going on to college. She was then married in 1953 and reared six children while assisting her husband in his law practice. She now has 15 grandchildren.

The Irish Woman of the Year is still a member of St. Patrick's Parish where she has always been active, participating in Our Lady's Sodality, St. Matthew's Guild, and the Christian Outreach Group. She is also a member the St. Clare League of Catholic Women.|She has been a member of Division 8 since the early seventies and has been there to support both the Ladies' and Men's endeavors.

Irish Man of the Year
This year's recipient of the Rev. James T. O'Reilly OSA Division 8's Ancient Order of Hibernians Irishman of the Year Award is Keith Murphy. He is a lifelong resident of the City of Lawrence as well as a lifelong parishioner of Saint Patrick's Parish in South Lawrence. The oldest son of Kevin and Jacqueline Murphy, he is a graduate of Saint Patrick Grammar School, Saint John's Prep and North Adams State College. Keith and his wife Jennifer are the proud parents of two children, Celia age 10, and Declan age 6, both students at Saint Patrick School.

The 2010 Irishman of the Year has been a member of Division 8 for over 11 years joining on November 12, 1998. Over these past 11 plus years, he has been a faithful and good supporter of Division 8's activities having served on a number of the Division's Committees, and has always been there when called upon to assist his Brother members. Presently he serves as the Recording Secretary of Division 8 AOH, as well as the Marshall for the AOH Essex County Board. For the past eight years, Keith Murphy along with his brother Mark, have coordinated the AOH and LAOH Marching delegation for Lawrence's Annual Saint Patrick's Day Parade.

World Champion Irish Dancer
AOH Division 8 member, Scott Doherty of Lawrence, MA won First Place in the World's Irish Step Dancing Competition held in Philadelphia, PA on April 10, 2009. Scott has taken Irish Step Dancing for the last 17 years from The O'Shea Chaplin Academy of Irish Dance, a well established school originating in Galway, Ireland and later expanding to Boston. Scott Doherty has worked very hard for all his achievements and the school is very proud to have him as one of their champion dancers who has won the World's Title of "NUMBER ONE".

Scott is also a descendant from a long line of dedicated Hibernians and Lawrencians. His mother, Anne Marie Nyhan Doherty is LAOH Division 8 President and LAOH National Board Appointee. Scott's grandfather was City Clerk Charlie Nyhan and his great uncle was former Mayor John Buckley.

As well as winning the world's competition, Scott has won the National Championship and the Great Britain Championship last year. Scott is currently touring with his older brother, Brian, in the hit show Lord of the Dance.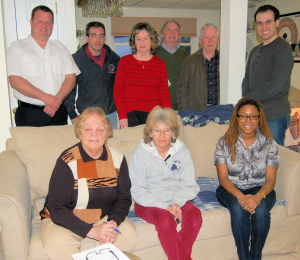 From left, standing: David Amero, Gregory Mills, Dorothy Incropera, Jim Curran, Jack Fitzpatrick, and Dave Santino. Sitting: Marie Gosselin, Rashida Craig and Carol Beveridge. Not pictured, Irene Callahan and Anne-Marie Nyhan-Doherty.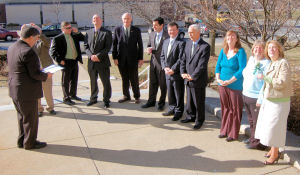 Haverhill honors the Irish
Haverhill Mayor James J. Fiorentini reading a proclamation at the Irish flag raising ceremony held Wednesday, March 17, 2010. Attending the ceremony are, from left, City Councilors Colin Lepage and Sven Amirian; City Council President, Michael J. Hart; State Senator Steven A. Baddour; State Representative Brian S. Dempsey; James P. Jajuga, President/CEO Haverhill Chamber of Commerce and Jennifer Gariepy among others.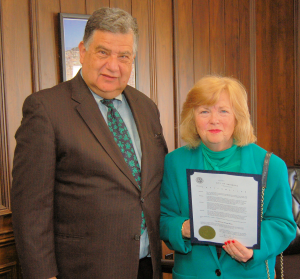 Haverhill honors the Irish
Mary Moynihan Caron receiving a City Proclamation from Haverhill Mayor James J. Fiorentini, honoring the Irish on St. Patrick's Day. She was also chosen to raise the Irish Flag at Haverhill City Hall.
ADVERTISEMENT | eA
ADVERTISEMENT | eB
ADVERTISEMENT | eC
ADVERTISEMENT | eR
ADVERTISEMENT